Return to Monkey Island Game Review by
Just wasn't for me I'm afraid, and I am huge fan of the originals and they were a massive part of my childhood. First off, the obvious. The art style. I know it's already been talked to death about, but a lot of people seem to say it grew on them. I just couldn't adapt to it. I have never been a fan of that Tim Burton-esque cartoon style and that's what this felt like. The humour of Guybrush's voice just didn't suit his visuals in this outing and I feel it took away a lot of the charm that the earlier games had. Also... the eyes. the expressionless black dots that everyone has... it all just lacked the comfort and charm I was expecting, and I only found out there was a new game being released a few days before it came out so it's not as if I had months to get my hopes up to unrealistic levels.

Even without the visuals being a huge problem, I did just unfortunately find the game boring and actually refunded it before finishing. The change in the way you interact with the world has been dumbed down. Instead of choosing whether to 'pick up' , 'push' , 'open' etc on an object, there is just one click for looking at something and an other for interacting with it in which ever way you are meant to. I also felt for the first time in a monkey island game, that it was almost holding your hand in terms of what to do, where to go, who to talk to. A lot of the dialogue was very on the nose about where you should be and who you should talk to to help solve the puzzle, whereas a huge part of the joy for me of previous Monkey island games was being genuinely stuck at times and having real trouble with a puzzle until just as you are feeling defeated, something clicks and you make progress. In fairness i never finished this game but for as much as i played I wasn't finding any of the puzzles very challenging and it was fairly obvious what you were meant to do next.

My final point would be the humour. I just didn't find it on par with the previous games. I found myself checking out and skipping through dialogues or not exploring every conversation option as I just wasn't engaged in them. I played through MI2 right before playing this and it was as phenomenal as ever.

This is all just my opinion obviously, and If you are a fan of Monkey Island, then it is definitely worth checking out for yourself as you might find absolute joy in it like we did with all the other games. I however am just going to forget all about it, go and play MI3 and hope that the majority of positive reviews encourages the creators to make another one.... and hopefully with a better art style... like MI3... god i'm excited to play it again.

P.s I did go watch a YouTube video of the ending to see the long awaited conclusion....and it made me kind of glad I didn't play all the way through. Seemed like a huge disappointment. I thought RG said he wanted to make this game to give some closure, but... apparently not.
Review of game
Return to Monkey Island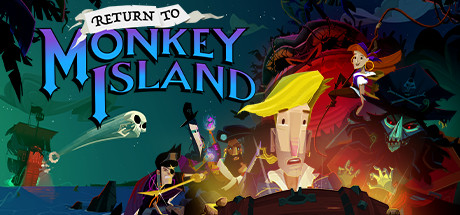 Return to Monkey Island is an unexpected, thrilling return of series creator Ron Gilbert that continues the story of the legendary adventure games.