Potion Permit Game Review by Beaurealis
Overall review 3/5

Graphics 5/5
Cute and animated.
Game mechanics 3/5
Not mouse friendly you either use keyboard completely on its own which has odd key binds. Or an xbox controller with the help of the keyboard opening up the map or journal etc . You can reassign the key binds though.
Mini games are iffy, diagnosing the patients when you have to press the arrow keys in the right order but also at a certain time ie in the little box. It's iffy because you can clearly do everything right but it will come up as a miss.
Other mini games such as working part time to earn a little extra are simple little games. Fishing isn't really a challenge like in Stardew Valley, it's just button mashing to reel in the fish.

The Potion making is a 2/5 it can be improved upon greatly. You put in any ingredients that fit the shapes you need. It's very very simple, maybe later on in the game certain potions will only use certain ingredients? If not then maybe this should be implemented, otherwise any ingredients could be used for all potions. Iron or rocks for example shouldn't be an option to be used for potions. Right now it's a matter of getting any ingredient that can fit the puzzle which feels very childlike.

You can upgrade your tools instantly at the blacksmiths it costs materials and coin.
Another feature is the time, its the same as Stardew, you get up at 6am and pass out at 2am. Time updates in 10 minutes increments.

Story 3/5
Good so far but dialogue could be fixed, you meet Forrest the Ranger as they tell you to go collect some herbs. Then later in the story you are asked to introduce yourself to villagers. Forrest acts like you never meet or introduced themselves to you which is odd.
Features slowly become available to you, fishing, community board tasks your mailbox, and the alarm for your clinic all become available after the first week is spent.

Daily life is a grind, 4/5
1speak to the villagers to increase their trust in you, (some are romancable),
2 gather resources and make potions to either sell by mailbox or use to cure your patients.
3 part time work for 2 ingame hours
4 pet your dog and feed him when he gets hungry.

Overall game experience it's a nice game to be curious and chill to, but it feels like it could be improved upon. Definitely keeping an eye on the updates and changes this game will have. Its not worth the deluxe version, get the base game, chances are people will mod this game making the current cost worth it.
Do I recommend it? I'm torn between yes and no, it can be improved upon big time but if you like what you see and want to try it then yes get it. It's a nice game to try out but it's by no means finished.

Suggestions, a choice of dog or cat and whether to leave them at home or have them follow you. Let them in the house and have a food/water bowl for them.
For the Potion making Assigning certain ingredients to certain potions will ensure you need to have a certain amount of each ingredient to make the Potion. Example you have a Coughing Potion which needs honey if honey is a 2 block and the Coughing Potion is a

1block and 2 2blocks right beside it. Then you could use 2 honey plus another ingredient.

Upgrading your health at the blacksmiths is odd and the feature should be moved to either be improved by eating so cooking delicious meals and or visiting the bathhouse. The bathhouse like the part time work takes 2 hours and can refill your stamina/health. Why not have it have lingering effects? Your muscles should be relaxed so perhaps you can cut down a certain number of trees faster or break rocks? Having to cook meal means farming, the soil is very fertile and its said plants can grow very fast there. Why not have a small patch of land for growing herbs or vegetables for cooking this can cut down on the grind for resources meaning you can spend time doing something else.
Review of game
Potion Permit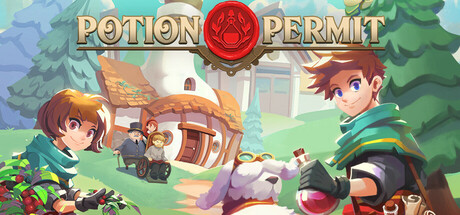 Moonbury's residents need healing, and you're the best chemist around! With your trusty tools, a brewing cauldron, and a canine companion at your side, you'll need to diagnose symptoms, gather ingredients, brew potions, and cure ailments in this open-ended sim RPG.