Dread Delusion Game Review by MARKIPLIER JUMPSCARE
(This review is for an early access release of the game, written 09/22/2022 and will be updated as the developer releases updates)

It really pains me to leave a review not recommending this game. I love the atmosphere, the premise, and a lot of the ideas at play. A King's Field style game, with RPG mechanics akin to the likes of Morrowind, as many other reviews have stated. The problem here is I can't justify this game as it is for $20 USD.

Let me clarify, I truly did enjoy my time with this game, I picked it up for 10 dollars during the Realms Deep sale. In one sitting I blasted through the first five hours of this game, before I had to get ready for work the next day. I spent all night and most of the next day, so eager to play Dread Delusion. Then upon booting the game up again I realized, those 5 hours were really all that the game had to offer. 3 Islands, 2 cities, and a random sprinkling of homes, caves and castles. For the price I paid I would absolutely recommend this game, and I understand that these devs must make a living, but at this stage this is not a $20 USD game.

If I enjoyed it so much, you might ask, why does the game length matter? Because 4 of those 5 hours were spent backtracking, crossing empty fields and hills, battling the same 5 enemies, grinding for the last pieces of ore to finish that disappointing home quest line, and hearing the same 3 songs. While the world and lore is fascinating and so, so promising, there is so little of it to experience, and what little you do bears zero effect on the world around you. No quest liens result in radical changes to the world, even when presented with seemingly important choices, none of the characters feel like more than placeholders, and the combat is hugely unrewarding and honestly far too clunky. In addition to largely lackluster quests, and even poorer quest rewards, none of the main quest lines can even be partially resolved.

What did I like? I am genuinely in love with the ideas this game puts forward. Scraps of humanity clinging to what little they have on their islands in the sky, orbited by the harsh light of a nearby star, while gods and demons battle for their worship and control. What little interaction with npcs there are, is mostly enjoyable, with fairly well done dialogue and well written in game texts offering insight to the world around you. The movement is also very enjoyable, you can move around the world like a Half Life 1 speed runner, jumping and weaving with no restriction. i hope that if they keep this movement style, they design future areas around it moving forward, that would be fun to see.

At this stage, I can't recommend paying full price for this game, there simply is not enough offered t justify full price. If the devs really stick with it and get more updates out, i think this game will be genuinely incredible. Until then, wait for a sale.
Review of game
Dread Delusion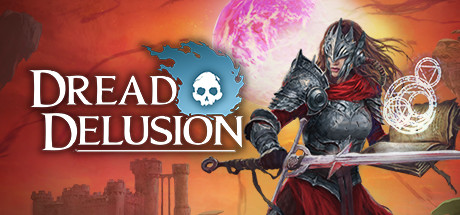 Dread Delusion is an open world RPG brimming with strange places and dark perils. Carve your own path through the flying continents of a shattered land. Discover curious towns, unearth occult secrets, master powerful magic - and change the world through your choices.