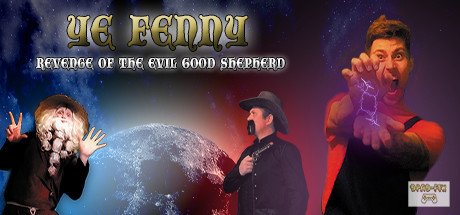 Ye Fenny - Revenge of the Evil Good Shepherd
Genres:
Action
Strategy
Indie
Adventure
Casual
ABOUT THE GAME
A long, long time ago, back in 2003. Old Whiplin made a planet for the Fennians called Ye Fenny.
It was once a happy place, where the Fennians could eat Butter Bark and smoke Joyfully.
But one day, a tyrant by the name of the Evil Good Shepherd, took over the planet and banished Old Whiplin to a golden kettle.
Can you the Outlander, cleanse the planet, and bring peace and harmony back to Ye Fenny?

Welcome to the beautiful lush planet of Ye Fenny. Explore 9 different areas through 15 phases. Battle the evil inhabitants which plague the lands of Ye Fenny with 4 different weapons. Destroy all 9 of The Evil Good Shepherds apprentices in hard-hitting boss battles, and come face to face with the Shepherd himself.

Enjoy 5 different play styles! Shoot your way through Shepherd's evil forces on land Swim through the alluring blue waters of the underworld. Travel fast rapid waters down the creek on your log raft, while dodging mines and sheep's spit. Fly in a helicopter up the sunset mountain of the Patoonga region. Embark on a wondrous quest in the Christmas Cove bonus levels. Can you find them all?

Watch and Hear! The story which unfolds throughout Ye Fenny's 31 FMV cutscenes consisting of over 33 minutes of footage.

You'll also get guidance on how to play and make your way through Ye Fenny via the hints and tips screens. These also consist of FMV cutscene which will give you a clear visual understanding of what to do.

Configure the games controls the way you want them at any time. Press CTRL+Y to bring up the controller option box anytime in the game and configure 'player 1's' controls.