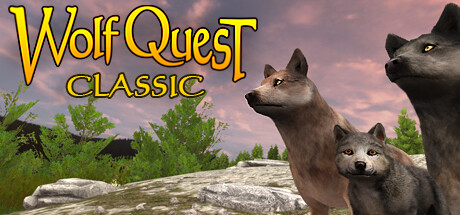 ABOUT THE GAME
WOLFQUEST: ANNIVERSARY EDITION -- FREE UPDATE!
This is the older version of WolfQuest, also called WQ .27 and now called "Classic." The all-new version of the game, WOLFQUEST: ANNIVERSARY EDITION
in now in Early Access, nearing completion. Bigger and better gameplay, huge new maps, more animals, and a sophisticated new eco-simulation of Yellowstone fauna. With your purchase, you'll get both the classic WolfQuest: Classic and WolfQuest: Anniversary Edition. You can make you purchase here or on the
WolfQuest: AE store page
, you'll get both games either way.
NOTE: The new game has higher hardware requirements, so please check those before purchasing.
WHAT IS IT?
A wildlife simulation game about wolf ecology.
EMBARK ON A QUEST FOR SURVIVAL!
When the game begins, you are a two-year-old gray wolf born in the Northern Range of Yellowstone National Park. You learned the ways of the wolf in your birth pack. Now it's time for you to learn how to live on your own.Your quest begins on the slopes of Amethyst Mountain and eventually takes you across the Lamar Valley to Slough Creek. There, you and your mate will establish a territory and raise a litter of pups: training them, feeding them, defending them against predators, and finally taking them on a cross-country journey to a summer home. Ultimately, your success will depend on your ability to ensure the survival of your pack.
PLAY ALONE OR WITH FRIENDS!!
In single-player games, learn how to hunt elk, communicate with other wolves, find a mate, establish a den and territory, raise pups, and embark on a perilous journey to a summering site.
In multiplayer games, explore the wilderness and hunt elk together, and now raise pups together! This new version features the entire Slough Creek mission arc, from choosing a den to raising pups and traveling to the rendezvous site. There are two types of multiplayer games:
Private games: Invite-only, featuring voice, text, and phrase chat.

Public games: Anyone can join, phrase chat or (for players age 13 and up) text chat.
WHAT'S NEW?
This new version improves and expands upon the original game, a grant-funded project that has been downloaded by over five million players around the world since its original release in 2008. Now, for this version 2.7, we've refined gameplay and graphics, added a new player account system with achievements, friends lists, and more, and completely rewrote the animal AI system. We've also added more wolf howls, over two dozen wolf customizations, and emotes -- accurate wolf behaviors to communicate with your packmates. And we created a mysterious new map to explore in single and multiplayer games. As always, there's also an active online community where you can discuss the game with other players and share artwork and stories about wolves. Visit
www.wolfquest.org
to join in.
MORE NEW STUFF! We've added cougars, moose, foxes, ravens, and a plethora of bird and insect life to the game, along with much richer and varied vegetation.
Is this new version worth buying? Find out
what players say.