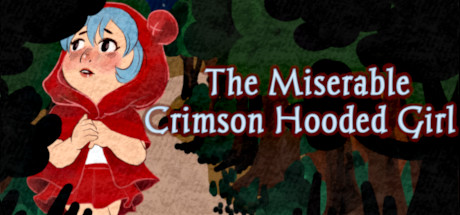 The Miserable Crimson Hooded Girl
ABOUT THE GAME
Crimson Hood
is a miserable girl. She is separated from her loving mother due to mommy being unwell, and is sent away to go stay with her grandmother in her strange house deep within the woods. Crimson Hood needs to be careful however, as residing in these woods is the
Gobbler
, a monster who preys upon the weak. Follow her quiet tale, that descends into the unthinkable, where innocence is soiled and shadows stir.
This is a short 40-60 minute or so experience, reimagining the classic dark fairy tale,
Little Red Riding Hood
, and it's various versions, most notably the Italian story, "The False Grandmother," that's over 1100 years old, into a strange visual novel-like experience with light gameplay sprinkled in.
Featuring a unique style that takes you on a journey into a dark fairytale.

A strong foreboding atmosphere that doesn't rely on cheap scares to unnerve you.

Reimagining of a classic story, the horror and human elements brought to the forefront and filtered through a modern lens.

Things are not how they seem.

An experience that may stick with you.
01 Aug 2022
Wow...just wow. After playing my brain is a little jumbled, and I feel as if I'll need a little time to digest this game and all it's themes. As short of an exp...
Read more