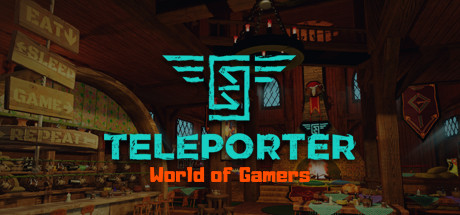 Teleporter: World of Gamers (Alpha)
Developer:
Teleporter Realities Inc.
Genres:
RPG
Free to Play
Massively Multiplayer
Simulation
Early Access
ABOUT THE GAME
Teleporter is the
World of Gamers in VR
that unites us in one place to play, watch, and hang out together.
You can find like-minded geek and gamer folks and communities here;
- Play console & board games together,
- Compete with other players on arcade games,
- Share your screen to watch videos or play your own games with others,
- Have your own super-duper space caravan and make it your fantastic flying home,
- Hang out in wonderful social spaces such as medieval taverns and heroic forests,
- Enjoy epic gaming events, geek movie nights, esports tournaments, fireside gatherings, carnivals, and much more!
This is the first baby step of building the future of social for gamers.
We believe our community to empower, engage, build, and feed a world for all the ways gamers get together, an ultimate place that belongs to us all.
Feels good? :) Join us on
Discord
and
Reddit
to be a part of this amazing community of gamers!
P.S. This place was built by gamers & geeks for all the video game lovers in the world.