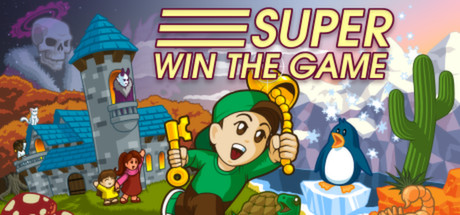 ABOUT THE GAME
Throw on your nostalgia goggles and travel back in time with
Super Win the Game
, a retro-core explosion of exploration and platforming action!!
Sequel to the 2012 freeware hit You Have to Win the Game

Open-ended exploration platforming: Explore a massive world, find hidden treasures, collect powerups and gain new abilities, and uncover mysterious secrets!

Adjustable CRT television simulator: Tune the retro-ness to your liking!

Speedrun courses with Steam leaderboard support! Race your friends' ghosts to the finish line!

Randomized Game mode for unlimited replayability!

Do the Thing!!

Get the Stuff!!

Win the Game!!
A Painful Platformer UPDATE - 6/3/2021 : Finished the randomized run, and it was more fun than I thought, but my opinion still stands. The randomized run at le...
Read more
28 Jun 2020
This game is a trip, let me tell you. Inspired by (and owing a lot to) classical adventure and platformer games of the '80s/8-bit era, it's a great example of ...
Read more