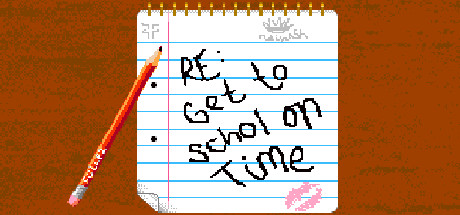 ABOUT THE GAME
After relentless fan demand, the Steam version of Xbox & iOS indie classic "RE: Get To Schol On Time" is finally here!
A retro comedy adventure from the makers of Bonkey Trek, Four Winds Fantasy & Bart The General.

Help the young Fuller on his odyssey through the back streets of England in 2003, as he tries to get to school against the clock, learning critical life lessons along the way.

The game contains 5 distinct sections, each with a unique gameplay mechanic, ranging from platformer to shooting gallery.
These sections represent the phases of his secondary school years:

Section 1 / Year 7 - Art Crit.
Simulation of a life drawing class where you are graded by failed actors for the quality of the drawing you produce.

Section 2 / Year 8 - Love Infinitely's Opening Weekend
The notorious hardcore platform stage that has ruined many YouTubers lives. Only pain awaits.

Section 3 / Year 9 - Ruined Crèche
A physics game where you must carefully time and throw balloons of soup.

Section 4 / Year 10 - The Vopsi Prom
Reflexes are required to pass this target range style shoot out.

Section 5 / Year 11 - The Debauched Pool Party
A deadly showdown where the player must smash bottles while avoiding what is thrown at Fuller.

Supports standard USB gamepads.

WARNING: This title is famously difficult. Only intended for highly skilled players. Interest in early 2000's era UK culture is optional.