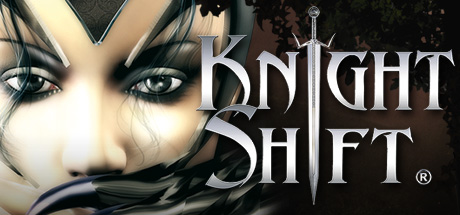 ABOUT THE GAME
Do you like Real Time Strategy? or are Role Playing Games your preference…
Why not try both genres in one? … or even both separately? …
In one game:
KnightShift
!
In a mystical world beyond fantasy and imagination, where corruption and disaster go hand in hand, not all is as it seems. A dark adventure begins in the RPG part: divided into eight chapters of dungeons, rare treasures, very strange companions and gruesome opponents. Eight individually equipped characters are available to you in this action packed role-play. It is now down to you, the player to form your hero and help him to fame and victory.
As soon as Gallus has been freed he can get on with job of bringing Prince John back to his father's kingdom. Strategy begins here: with the support of your loyal subjects the fight against the powers of evil begins.
GAME FEATURES:
Two games in one, a gripping storyline with amazing characters in a living world of fantasy [RTS-Part in 24 exciting missions and RPG Part with 8 chapters and countless nerve tickling quests]

Skirmish RPG und RTS Mode with over 20 additional maps

Over 2,000 various weapons, equipment and magical items

Extensive multiplayer fun with companion and competitive matches over LAN and EarthNET™

Revolutionary graphics taking full advantage of Per Pixel Shader technology with automatic adaptation of the engine to fitted hardware

A brandnew Musical Score with over 75 pieces of original music

Completely 3D with a freely rotating camera
Knuffybaer[GER]
16 Jun 2021
Information / Review English KnightShift is part of the RPG genre developed by Reality Pump. Gameplay / Story Prince Siegfried was thrown from the throne...
Read more