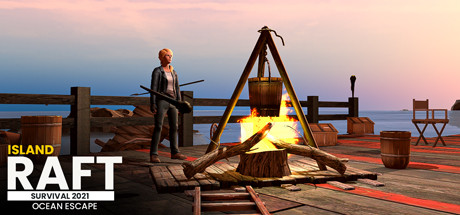 Island Raft Survival 2021: Ocean Escape
ABOUT THE GAME
In Raft Survival 3D and raft adventure games you can imagine that you are only one person who survived after catastrophic crash in ocean. You are alone on this small raft wandering in the ocean & crafting ocean game. There are no signs of earth nearby in raft and shark games. You can see that you are only survivor of ship crash, now you need to struggle for your life to survive in survival raft adventure games. The angry and hungry shark is always near your raft, waiting for you to fall down so be careful in raft and shark games. Gather your resources from water to craft your equipment in raft and island survival games. Find food and drink water to stay alive and expand your raft to create more comfortable place to live in raft adventure games or survival raft adventure.

Explore this survival raft adventure full of mysterious ocean places such as sunken pirate and caves full of treasures. There is various survival tools and weapons that may help you to explore this ocean island in raft and shark game. Hunt wild animals to make it your next meal, find weapons to protect yourself from predators in raft and island survival games. Craft useful resources and tools by using special workshop in raft adventure games. Use your raft survival and shark hunting skills to stay alive, avoid battling against furious island predators and discover the secrets of Ocean Island with amazing raft survival simulator 3D. hunt, craft and gather resources to stay alive, build shelters to hide from predator and have peaceful life with ocean island survival and raft survival adventure games.

Are you ready for ultimate raft survival adventure experience, control your survival character with joystick, move around the island or swim in the ocean with raft and island survival games to find treasures. Ocean is full of sharks and ready to attack so be careful, Find or craft weapons such as guns, bows or hammers to battle for your life against animals! Dive into the atmosphere of realistic raft survival games, Use your exploration, battling and survival skills to stay alive with raft Ocean Island Survival simulator.

Features for Island Raft Survival 2021

• Realistic raft survival with deep ocean
• Challenging survival missions
• Collect resources to build craft
• Realistic raft survival simulator environment
• High quality cool graphics
• Amazing animations
• Super sound effects
Download Now!