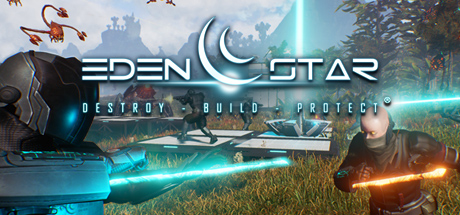 EDEN STAR
Genres:
Action
Strategy
Indie
Adventure
Early Access
ABOUT THE GAME
Eden Star is an immersive Sci-Fi survival game that blends innovative physics based combat, destructible environments and free-form construction with the exploration of a hostile alien world.

Explore and gather resources from the environment of Pharus 7, use these materials to construct defensive outposts, craft powerful weaponry and upgrade your Pioneer.

Current Features
Co-op & PVP Multiplayer

4x4 km World

All New Crafting Inventories

20 + Material and Compound Material Types

Colony Creation System (Teams)

Physics based combat (Smash)

Splintermite (Ground Enemy)

Cerberus (Wolf)

Stalker (Ground Enemy)

Ika (Flying Enemy)

Ika Viper (Flying Enemy)

5 Wildlife Creatures (neutral)

Swamp Walker (Neutral/Defensive Creature)

Swamp Biome

Forest Biome

Foliage Destruction

Mineral Rock Destruction

Wall running and Mantling
Weapon Combos and Ammo;
Pistol

Machine Pistol

SMG

Assault SMG

Heavy SMG

Rifle

Assault Rifle

Assault Shotgun

Heavy Rifle

Long Range Assault Rifle

Sniper Rifle

TAC (heavy) Rifle

Ammo Clips for each reviever variant

Gauss Module Flechettes

Reflex Sight

Sniper Scope
Multiple "MATA-Tool" Abilities/Upgrade Modules;
Kinetic Blast

Kinetic Laser

Energy Harness (Mining)

Energy Harness Reclaim Structures (Undo)

Regeneration (Heal Structures)

Energy Harness MATA-Combat (Smash)

Gauss Cannon

Melee Baton

Melee Energy Blade
Primitive Structures;
Foundations

Barriers (Half Walls)

Walls

Glass Wall

Windows

Ramp

Pillar

Ceilings (Floors)
Functional Structures;
Eden Kit

Auto Turret

Energy Turret

Missile Turret

Energy Walls

Doors & Doorways

Energy Generator
For an up to date list of what we are currently working on we have a public Trello board available HERE (you must have a Trello account to comment or vote on features)
In Development
Splintermite Queen (large ground enemy)

Weapon - Grenade Launcher

Weapon - Frag Grenade

Expanded build types & Decorators

Fauna Creatures

Vehicles
In Planning
We will not promise that the following features will make it into the game until they are actually in the game!
Further Refinement of Melee (Combos)

Expanded World

Additional Pioneer Characters

Steam Achievements

Health Packs

Craftable/ Upgradable Armour

Utility buildings (generators etc)

Caves/Catacombs

More enemies!

More neutral creatures

Robotic allies

Vehicles/Mechs

Procedurally generated loot and rescources

THE GAWR...
Current Feature Overview
Destroy
Use your MATA-Tool (Remote Manipulation Device) to harvest trees, foliage and mineral rich rocks within a real-time physics driven environment. Obtain Material Shards for use in outpost building, weapon construction and powerful upgrades. Destroy and recreate your surroundings at will; the world is yours to manipulate, just watch out for the indigenous lifeforms…
Build
Use gathered Materials to craft defenses, walls, ramps and turrets to protect your outpost or construct powerful weapons and upgrades for your Pioneer. Place gathered Materials within your Eden Kit to store, or use them to upgrade the Eden Kit's protective shield and power additional defenses. Expand your territory by building additional Eden kits. How you balance your resources is up to you.
Protect
Using unique physics-driven combat you can remotely grab enemies and smash or blast them into the destructible environment. Upgrade your weaponry to tackle the alien hives and claim the territory for your own. Combine different attacks and abilities in order to survive against enemies and environmental hazards. A simple, but fluid movement system gives you freedom to move athletically across surfaces.
Death in Eden Star is permanent. You can be reconstructed back by the Eden Kit provided it contains Teslinium and remains intact, but naturally it must be protected...

The Tech Demo is free and is automatically downloaded with Eden Star.
To access it you must do the following;
Find Eden Star :: Destroy - Build - Protect ® in your Steam Game Library

Right Mouse Click over Eden Star :: Destroy - Build - Protect ® and select Properties from the bottom of the list

Left Mouse Click on the 3rd tab labelled Local Files

Left Mouse Click on the Browse Local Files button
This Will Open Up A Browser Window
Click on the UE3 Combat Tech Demo folder

Follow the instructions listed within the associated Readme file within the folder, all instructions are also within the Readme document
To launch the Eden Star Tech Demo you must find the folder where you have installed the Tech Demo and find the following folder;

EdenDemo_5.7 > Binaries > Win64 then click on the application (.exe) "EdenGame" to launch the demo

e.g. :: C:\Eden\EdenDemo_5.7\Binaries\Win64\EdenGame.exe
I have had this for a while and have not messed with it since 2018 so I figured I would pop in, play for a while and give a review. So, from the start I have t...
Read more