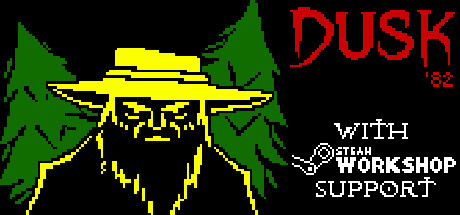 DUSK '82: ULTIMATE EDITION
Genres:
Strategy
Indie
Adventure
Casual
ABOUT THE GAME
Dusk '82 is a retro-styled puzzle/adventure prequel game based on the 2018 "cult" shooter DUSK. Solve 30 bite-sized levels inspired by puzzle classics like Chip's Challenge and Sokoban, or make and share your own levels with an easy to use editor and Steam Workshop support.

Enemies and projectiles only move when you move and levels are filled with a variety of hazards. Use smart planning to eliminate cultists with classic weapons like the shotgun, riveter, crossbow, and the all powerful SOAP. Use movable barrels and other explosives to blast through walls. Zip around on conveyor belts to quickly reposition. Dodge with inhuman skill and agility only possible through turn-based movement. Then find your way to the exit.
FEATURES:
30 campaign levels that tell a prequel story to DUSK.

Chiptune renditions of the DUSK Soundtrack by Andrew Hulshult

Simple to use editor for making your own levels and map packs

Sprites and music can be easily modified for maximum memes in custom levels

Minimalist retro art style based on classic DOS and Atari aesthetics

A scoring system that is easy to learn and hard to master

Achievements, Badges and Steam trading cards

Steam Workshop Support

Full controller support

Two free retro ASCII games included

Runs on literally anything
The prequel to the smash hit boomer shooter DUSK, DUSK '82 takes a completely different direction in both style and gameplay, opting for a top-down action-puzzl...
Read more