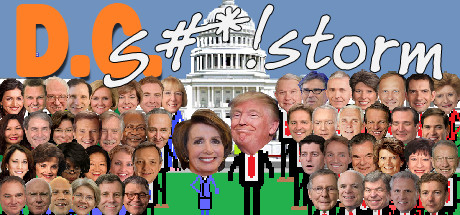 ABOUT THE GAME
A zany fast paced game where you take to the skies as a righteous turkey delivering comeuppance upon the heads of politicians who so richly deserve it in this parody of American politics and media.
Key Features:
Retro arcade style game with 7 fun packed levels.

60 prominent American politicians, including Republicans, Democrats, and Independents, as well as a few surprises.

Over 100 humorous audio samples of the politicians who run America.

One and two player co-op modes (local).

Full Soundtrack featuring tracks from Matt Mattingly, The Kentucky City Boys, and Grumpy Bandersnatch.

Frustrated with American politics? Don't get stressed out... Play D.C. S#*!storm!

Uninformed about American politics? You'll be hard pressed to find a more fun way to learn who the key figures are than playing D.C. S#*!storm.