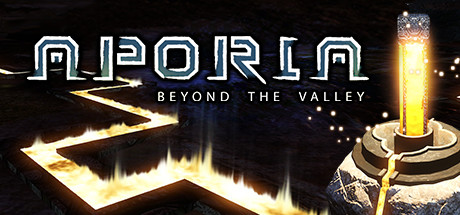 Aporia: Beyond The Valley
ABOUT THE GAME
"... could well cement itself among the top puzzle adventure games of the longstanding genre."
-
PC Gamer
(Preview)
"The most striking thing about Aporia, to me, is that the Myst comparison feels right."
Kotaku
(Preview)
"The overall ambition and premise of the game have definitely caught our attention, as it's a gorgeous world with an interesting narrative approach."
-
Game Reactor
(Preview)

An ancient world, long abandoned. Where has everyone gone? What lies beyond the valley?
Aporia: Beyond The Valley
is a single-player first person mystery adventure set a lavishly detailed open world.
You awake abandoned after hundreds of years of sleep in a crumbling temple of a once mighty civilization. Outside, a ruined city lies deep in the grip of a jungle.
Immersed in this world of dark beauty, thrilling mystery and ancient structures, you embark on a quest to discover the truth about who you are, and what disaster befell this magnificent ancient world.
Explore a verdant landscape, vast temples and master ancient technology to reveal the macabre secrets of this haunted, forgotten world. With revolutionary story and puzzle mechanics,
Aporia: Beyond The Valley
reveals a dark and deadly past and sounds a warning to our possible future.

Key Features
-
An immersive, detailed world created in CryEngine.

Explore a story about humanity, technology and civilization.

Avoid traps and solve brain twisting puzzles made to make you question what happened in The Valley.

Explore bizarre architecture and overgrown nature, choosing your own path in the game's non-linear world.

Completely original musical score.
Waking up alone and confused after who knows how long a slumber; you make your way into a world of ruins, a world without people but with a story waiting to be ...
Read more
29 Apr 2021
Before I start my review, this game is a horror exploring experience. I'm saying this because I began playing considering that it was going to be just a traveli...
Read more